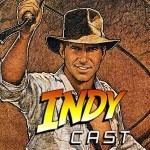 This week the Indy 5 plot rumors begin, Official IndyCast Correspondent Mitch Hallock goes old school reviewing the Story of Raiders on vinyl, Laird sits down with Raiders in Concert Conductor Emil deCou and IJ in the UK's Chris Allan, we get an audio insight into the Temple of the Forbidden Eye and a merchandise update from Walt Disney World, Ron returns with another bite-sized Indy fun fact, Double T's has another Grail Chronicles review and lot's more!
Listen Now!
Use the player above to listen online or
right click here
and "save as" to download the show directly to your PC.
iTunes
Subscribe to the show via iTunes
and be kept up to date automatically each week.
RSS Feed
Subscribe via the Indy-Cast RSS Feed
right here
.
Show notes for April 10th, 2017
NEWS
Indy 5 rumor and title?
Temple of the Forbidden Eye audio press kit
Temple of the Forbidden Eye commentary
CLUB OBI-WAN
Conductor Emil De Cou's website
Raiders live with Film with the SF Symphony
Wired article about the Last Crusade Graphic Adventure Grail Diary
Site to find out about all upcoming Raiders live with orchestra
Lawrence Noble - Sculptor of Indy and Yoda in San Anselmo
Follow the IJ in the UK Facebook page
COLLECTING
New Indy Disney World merchandise
BOOKS & COMICS
Double T's Grail Chronicles Blog
Possum Times podcast
The Expanded Archives of Dr Jones
Latest issue of the Indy Mag
IndyCast Further Adventures Episode Guide on the Raven forum
Email Joe and Keith at thefurtheradventures@gmail.com
.
The Further Adventures of Indiana Jones Facebook page
The Further Adventures of Indiana Jones theme
Comic Book Central Facebook page
Comic Book Central website
MAIL
Listener submitted photos
The Indiana Jones Archive on Facebook
Contact The IndyCast Crew
Our website - theIndyCast.com
Add some photos to the IndyCast flickr page!
Become a fan of the show at Facebook!Follow us on Twitter at twitter.com/indycast!Discuss the show at the Rebelscum forums or The Raven Forums
General Email :
indycast@forcecast.net
.
Host - Ed Dolista
Email :
ed@theindycast.com
.
IndyCast Correspondent - Mitchell Hallock
Email :
mitch@theindycast.com
.
Laird - John Williams Specials
Email :
laird@theindycast.com
.
Ron - John Williams Specials
Email :
ron@theindycast.com
.
Chris - IJ in the UK
Email :
indyallanjones@gmail.com
.
Discuss show topics in our
forum
.
Email Notification
Subscribe to The IndyCast : Indiana Jones News and Commentary by Email