IndyCast Special 24: The Magic of John Williams
Posted by Ed on February 6, 2017 at 02:07 AM CST: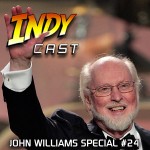 Just in time for the maestro's 85th birthday, join hosts Ron Longo and Laird Malamed along with fan Deborah Guzman as they celebrate the music and inspiration that is John Williams! [In Stereo]

Listen Now!



Use the player above to listen online or right click here and "save as" to download the show directly to your PC.

iTunes
Subscribe to the show via iTunes and be kept up to date automatically each week.

RSS Feed
Subscribe via the Indy-Cast RSS Feed right here.






Show notes for February 6th 2017

New John Williams/Steven Spielberg 4 disc compilation set preorder
Ready Player One book by Ernest Cline (Spielberg's movie comes up in 2018)
John Williams discusses The Force Awaken's Rey (from last spring)
Laird's Just Give fundraiser page
Laird's blog

Contact The IndyCast Crew

Our official website - theIndyCast.com

Add some photos to the IndyCast flickr page!

Become a fan of the show at Facebook!

Follow us on Twitter at twitter.com/indycast!

Discuss the show at the Rebelscum forums or The Raven Forums

General Email : indycast@forcecast.net.
Host - Ed Dolista
Email : ed@theindycast.com.
IndyCast Correspondent - Mitchell Hallock
Email : mitch@theindycast.com.
Laird - John Williams Specials
Email : laird@theindycast.com.
Ron - John Williams Specials
Email : ron@theindycast.com.

Discuss show topics in our forum.

Email Notification
Subscribe to The IndyCast : Indiana Jones News and Commentary by Email