Weekly ForceCast: April 30, 2010
Posted by Jason on April 30, 2010 at 09:06 AM CST: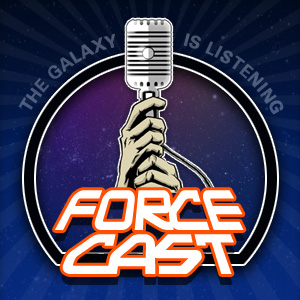 Ashley Eckstein (Ahsoka Tano) from The Clone Wars and former Star Wars fan club President Dan Madsen join us to discuss Ashley's new line of Star Wars-themed clothing for women: "Her Universe." We also wrap up our C2E2 coverage, including chats with Star Wars artist Grant Gould and (shudder) a Prequel hater! Plus, more Mandalore Rain entries, Billy Dee, listener e-mails, voice mails, and much more.

Attn ForceCast iPhone/iTouch App Users: Please check EXTRAS for this episode for our first release of bonus content, exclusive to the ForceCast App!

Show Sponsor:
Go to AudiblePodcast.com/TFN for your free audio book download!

ForceCast iPhone/iPod Touch App
Have the entire ForceCast archives at your fingertips, plus bonus shows and exclusive content! Get it now!

ForceCast T-shirts:
Order yours today!

Listen Now!


Direct Download:
Download the show directly to your PC or Mac here

Help Spread The Word!



Listen to The ForceCast: LIVE
Be part of the action Tuesdays at 8:00 PM ET only at ForceCast.Net!