Clone Wars Roundtable: 315-316 - Overlords & Altar Of Mortis
Posted by Jason on February 10, 2011 at 12:21 PM CST: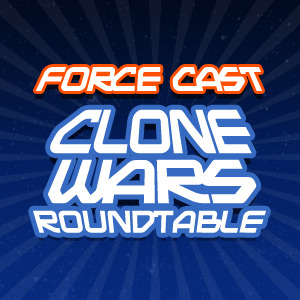 Is it all a dream? Was that really Qui-Gon Jinn? Is Anakin the Chosen One after all? Find out what we think as we look at the first two episodes of
The Mortis Trilogy
:
Overlords
and
Altar of Mortis
with special guests "Big Honkin" Steve Glosson and former LucasArts Sound Designer David Collins.
Show Notes
You can see more information about this episode on
its wiki page
. We invite you to expand and improve the wiki with your own contributions.
ForceCast Podcast Mobile Apps:
Have the entire ForceCast archives at your fingertips, plus bonus shows and exclusive content!
Download for Android OS Devices (running 2.1 or higher)

Contribute To The ForceCast:
Consider making a monthly or one-time financial contribution to our efforts at the ForceCast podcast network. Thank you for your support.

ForceCast T-shirts:
Order yours today!

Listen Now!


Direct Download:
Download the show directly to your PC or Mac here

Help Spread The Word!



Take Our Survey
Help us get to know you better by answering a few questions about yourself, how you listen, likes, dislikes... we want to know it all!
Standard Survey
Abbreviated Version

Listen to The ForceCast: LIVE
Be part of the action Tuesdays at 8:00 PM ET only at ForceCast.Net!
FORCECAST.NET IS NOT ENDORSED BY LUCASFILM, LTD. PLEASE READ OUR
DISCLAIMER
. © Copyright 2018 TF.N, LLC