Echo Base #43: A New Era
Posted by Erik on January 8, 2016 at 08:43 AM CST: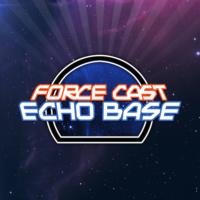 The new era of
Star Wars
begins! We start the new year by addressing a listener question, looking at the box office numbers so far, and reflecting on the resounding success of
The Force Awakens
, as well as taking a look forward to
Rogue One
. Come celebrate this new era with us at Echo Base!
Listen Now!Download or Subscribe!
Download MP3
♦
Subscribe via iTunes
♦
Subscribe via RSS
♦
Subscribe via Email
More Resources:Contact Us!Help Spread The Word!
FORCECAST.NET IS NOT ENDORSED BY LUCASFILM, LTD. PLEASE READ OUR
DISCLAIMER
. © Copyright 2017 TF.N, LLC