Posted by xxxxxxxxxxxxxxx on
June 25, 2009 at 09:02 PM CST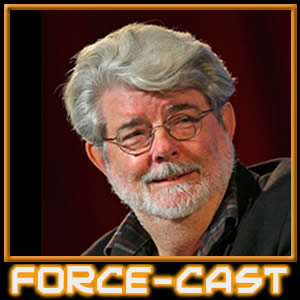 The Force-Cast is back and bigger than ever. Join Jason and Jimmy Mac as they review the big night in Chicago when George Lucas was honored by the Siskel Film Center. Hear exclusive podcast coverage from behind-the-scenes and backstage with GEORGE LUCAS! Plus, incredible highlights from JON FAVREAUs one-on-one interview with George - Live from the stage at The Four Seasons main ballroom. Its an up-close and intimate look at the creator of Star Wars focusing on his past, present and future. Tickets for this event were 400 bucks a pop, but The Force-Cast was there leaving NO FAN BEHIND with this amazing report from a mind-blowing evening. Also, we hear about everything that went down at Ralph McQuarries 80th birthday party from PAUL BATEMAN of RalphMcQuarrie.com. Find out what happened and who was on the star-studded guest list. And if that isnít enough, DAN MADSEN, former Star Wars Fan Club President, stops by with info on how you can own a piece from his huge personal collection. And of course, birthdays, Billy Dee and the hottest news from the Star Wars galaxy with The Weekly Force-Cast!
Listen Now!iTunes
Subscribe to the show
via iTunes
and be kept up to date automatically each week.
Zune
Zune users can listen into the show
right here
.
Download
Want to download the show directly to your PC? Then just
click here
to download to PC (Right click, "save as")
RSS Feed
Help Spread The Word!
Show Sponsor:
Audible.com: go to
Audiblepodcast.com/tfn
for your FREE audio book download.
FORCE-CAST: LIVE
BE PART OF THE ACTION WEDNESDAYS AT 8:00 P.M. EST ONLY ON
THEFORCE.NET
.
eMail:
Podcast@theforce.net
Voice mail: 330-754-05FC (330-754-0532).
Discuss show topics in our
forum
.
Follow us on Twitter
Get up to the minute updates on live shows, breaking news, and all things Force-Cast.
Get New Show In Your Inbox
Subscribe to The Force-Cast by E-mail
Related Stories:
---