A Very ForceCast Christmas Holiday Special
Posted by Jason on
December 18, 2009 at 08:36 AM CST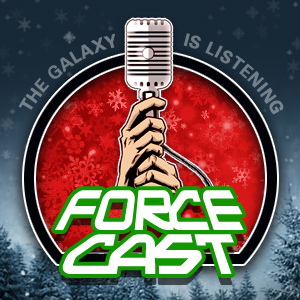 Throw on your footie pajamas, pour yourself a mug of 'nog, and gather the family around the tree for A Very ForceCast Christmas Holiday Special With James Arnold Taylor (Obi-Wan Kenobi from
The Clone Wars
) And Friends. It's our most star-studded show ever with surprises around every corner and guests coming down the chimney all night long. Plus, open phones where the listeners ask the questions. It's A Very ForceCast Christmas Holiday Special With James Arnold Taylor And Friends--only from your friends at the ForceCast!
Show Sponsor:
Go to
AudiblePodcast.com/TFN
for your free audio book download!
ForceCast T-shirts:
Order yours
today
!
Games For Soliders
Please consider joining Catherine Taber (Padme from
The Clone Wars
) in supporting our troops overseas. Visit
GamesForSoldiers.com
for more information.
Listen Now!Direct Download:
Download the show directly to your PC or Mac
here
Help Spread The Word!
Listen to The ForceCast: LIVE
Be part of the action on our NEW NIGHT, Tuesdays at 8:00 PM ET only at
ForceCast.Net
!
Related Stories:
---