Clone Wars Roundtable: 304 - Sphere of Influence
Posted by Jason on
October 7, 2010 at 06:21 AM CST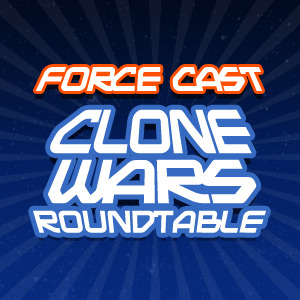 We're talking
Sphere of Influence
this week with
Star Wars Insider
Editor Jonathan Wilkins and The Force.net's Eric Geller. From Ahsoka's new Jedi skills to the
Clone Wars
debuts of Baron Papanoida and Greedo,
Sphere of Influence
is full of mystery, action, political maneuvering, and some hot-button issues as well.
Panelists:
Jason Swank
,
Jimmy Mac
,
Jonathan Wilkins
,
Eric Geller
iPhone/iTouch App Bonus
Click on EXTRAS for this episode for highlights from The Clone Wars press conference at Celebration V featuring Dave Filoni and cast.
ForceCast iPhone/iPod Touch App
Have the entire ForceCast archives at your fingertips, plus bonus shows and exclusive content!
Get it now
!
ForceCast T-shirts:
Order yours
today
!
Listen Now!Direct Download:
Download the show directly to your PC or Mac
here
Help Spread The Word!
Take Our Survey
Help us get to know you better by answering a few questions about yourself, how you listen, likes, dislikes... we want to know it all!
Standard Survey
Abbreviated Version
Listen to The ForceCast: LIVE
Be part of the action Tuesdays at 8:00 PM ET only at
ForceCast.Net
!
Related Stories:
Clone Wars Roundtable: 307 - Assassin
Clone Wars Roundtable: 306 - The Academy
Clone Wars Roundtable: 305 - Corruption

---