Clone Wars Roundtable: 502 - A War on Two Fronts
Posted by Jason on October 10, 2012 at 04:32 PM CST: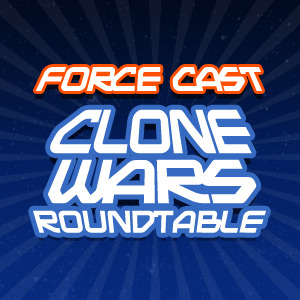 The Clone Wars
Roundtable returns to the palatial ForceCast studios for our look at
A War on Two Fronts
and the reunion of Ahsoka and Lux Bonteri, with guests Paul Bateman and Kyle Newman.
Show Notes:
You can see more information about this episode on
its wiki page
. We invite you to expand and improve the wiki with your own contributions.
ForceCast Podcast Mobile Apps:
Have the entire ForceCast archives at your fingertips, plus bonus shows and exclusive content!
Download for Android OS Devices (running 2.1 or higher)

Listen Now!


Direct Download:
Download the show directly to your PC or Mac here

Help Spread The Word!



Take Our Survey
Help us get to know you better by answering a few questions about yourself, how you listen, likes, dislikes... we want to know it all!
Standard Survey
Abbreviated Version

FORCECAST.NET IS NOT ENDORSED BY LUCASFILM, LTD. PLEASE READ OUR
DISCLAIMER
. © Copyright 2018 TF.N, LLC