Special Report: Chicago Comic Con 2009
Posted by Jason on
August 11, 2009 at 06:31 AM CST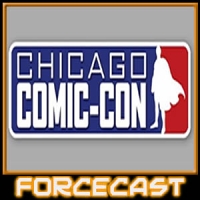 The
Star Wars
presence at the 2009 Chicago Comic Con was HUGE! Join Jimmy Mac as he braves the throngs to bring you interviews from the show floor with the talents behind some of the Saga's most indelible characters: Peter Mayhew (Chewbacca), Tom Kane (Yoda in
Star Wars: Clone Wars
), Howard Chaykin (illustrator of the original
Star Wars
film adaptation from Marvel), Jerome Blake (Mas Amedda and others), Maria De Aragon (Greedo), Anthony Forrest (Sandtrooper), and Doug Wangler (Quinlan Vos). Chicago Comic Con brought
Star Wars
fans from across the country to the Windy City and The ForceCast brings it to you, leaving NO FAN LEFT BEHIND with this special report!
Keep checking ForceCast.net for more reports from Chicago Comic Con 2009 and be sure to listen to our
interview
with Steve Sansweet from the event!
Updated:
Check out Jimmy Mac's
photos
from Chicago Comic Con on our
Flickr page
.
Listen Now!Direct Download:
Download the show directly to your PC or Mac
here
Related Stories:
---