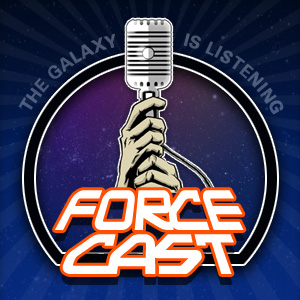 Liam Neeson resurrects Qui-Gon Jinn,
Star Wars
on Blu gets a release date (so sayeth Amazon), and Lucasfilm responds to the George Lucas/Mayan prophecy rumors. Plus, one half of our Collector's Edition team James Burns joins us to talk about what he's seeing at UK ToyFair this week.
Attention ForceCast Smartphone App Users:
Click "Extras" for some post-show studio conversation as we prepare to start the
Clone Wars
Roundtable with guests Kyle Newman and Paul Bateman.
ForceCast Podcast Mobile Apps:
Have the entire ForceCast archives at your fingertips, plus bonus shows and exclusive content!
Download for Android OS Devices (running 2.1 or higher)

ForceCast T-shirts:
Order yours today!

Listen Now!


Direct Download:
Download the show directly to your PC or Mac here

Help Spread The Word!



Take Our Survey
Help us get to know you better by answering a few questions about yourself, how you listen, likes, dislikes... we want to know it all!
Standard Survey
Abbreviated Version

Listen to The ForceCast: LIVE
Be part of the action Tuesdays at 8:00 PM ET only at ForceCast.Net!
FORCECAST.NET IS NOT ENDORSED BY LUCASFILM, LTD. PLEASE READ OUR
DISCLAIMER
. © Copyright 2018 TF.N, LLC