Clone Wars Roundtable: 309 - Hunt For Ziro
Posted by Jason on
November 18, 2010 at 09:38 AM CST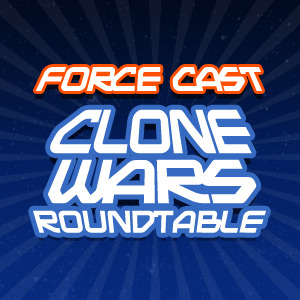 Star Wars
artist Tom Hodges and Rebelscum's Jay Shepard join us for our look at the latest episode of
The Clone Wars
,
Hunt for Ziro
, featuring the debuts of Mama Hutt, Sy Snootles, Quinalan Vos, Gamorrean Guards, and more. Was it enough, or was it all too much? Find out what we thought on the ForceCast's
Clone Wars
Roundtable.
Panelists:
Jason Swank
,
Jimmy Mac
,
"Jovial" Jay Shepard
,
Tom Hodges
ForceCast iPhone/iPod Touch App
Have the entire ForceCast archives at your fingertips, plus bonus shows and exclusive content!
Get it now
!
ForceCast T-shirts:
Order yours
today
!
Listen Now!Direct Download:
Download the show directly to your PC or Mac
here
Help Spread The Word!
Take Our Survey
Help us get to know you better by answering a few questions about yourself, how you listen, likes, dislikes... we want to know it all!
Standard Survey
Abbreviated Version
Listen to The ForceCast: LIVE
Be part of the action Tuesdays at 8:00 PM ET only at
ForceCast.Net
!
Related Stories:
Clone Wars Roundtable: Nightsisters Trilogy
Clone Wars Roundtable: 311 - Pursuit of Peace
Clone Wars Roundtable: 310 - Heroes On Both Sides
Clone Wars Roundtable: 308 - Evil Plans
Clone Wars Roundtable: 307 - Assassin
Clone Wars Roundtable: 306 - The Academy

---