Clone Wars Roundtable: Nightsisters Trilogy
Posted by Jason on January 27, 2011 at 08:51 AM CST: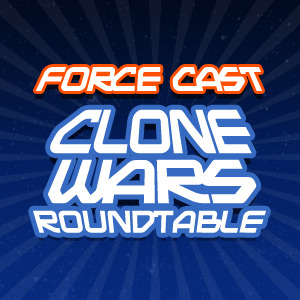 Kyle Newman and Paul Bateman join us for a Savage Opress-sized edition of the roundtable as we look at
Clone Wars
episodes:
Nightsisters
,
Monster
, and
Witches of the Mist
, aka
The Nightsisters Trilogy
.
Panelists:
Jason Swank
,
Jimmy Mac
,
Kyle Newman
,
Paul Batemen
ForceCast Podcast Mobile Apps:
Have the entire ForceCast archives at your fingertips, plus bonus shows and exclusive content!
Download for Android OS Devices (running 2.1 or higher)

ForceCast T-shirts:
Order yours today!

Listen Now!


Direct Download:
Download the show directly to your PC or Mac here

Help Spread The Word!



Take Our Survey
Help us get to know you better by answering a few questions about yourself, how you listen, likes, dislikes... we want to know it all!
Standard Survey
Abbreviated Version

Listen to The ForceCast: LIVE
Be part of the action Tuesdays at 8:00 PM ET only at ForceCast.Net!